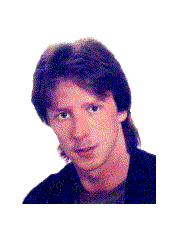 The guy over there to the left - that's me. My fatal first contact with kites was caused by the wish to produce some photos from a higher perspective and therefore I thought it would be a good idea to build a kite big and stable enough to lift my camera. I started reading all the kite-related material I could get and finally decided to try to build the parafoil described in Wolfgang Schimmelpfennigs book. I had no experience in kiting (in fact I never flew a kite while I was a kid) and exactly the same experience in sewing. Nevertheless I bought all the material I needed for the parafoil, my mum showed me how to sew a straight seam and two days later, the parafoil was ready and flew great! I built a rig for my camera (2.5 kg all in all) and found out that the parafoil which gave me the impression of ultimate pull was not able to lift the thing. So I built a lighter rig, but the only time I tried it, there was hardly any wind. This was about 4 years ago and that was the time the kite-bug beat me.

Since then, I built several stunt-kites, started power-kiting with the Sputnik, bought a buggy (Scooter) and currently concentrate on building either buggy-engines or single-line-kites although I also try to do some tricks and indoor-kiting.

As I work together with Bernhard since several years (first during my time at the university, now at Daimler-Benz) we both exchange ideas, hints, templates and often compete in producing new kites (e.g. when building the Gecko and the Pterosaur). Therefore (and thanx to the great inspiration, discussion, information exchange and whatsoever resulting from participating in rec.kites) I got much more involved in kiting than I would have dreamed of 4 years ago. So I don't mind most of my friends asking me: 'You are building another kite? I thought you already had one ??!?!' They'll never experience Aoxomoxoa.